Castanyada (chestnut day) Offer 2020
Come to hotel BOLET CASA MODERNISTA from October 23 to November 8 and celebrate the Castanyada (Chestnut Day) with us.
To all our guests, during these days, we offer a snack that includes chestnuts, panellets, roasted sweet potato and a glass of Mistela of our own elaboration.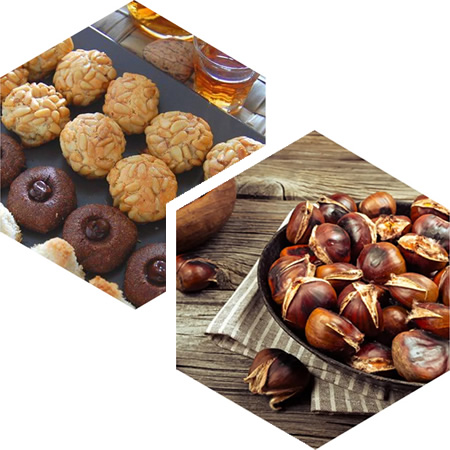 Did you know…
According to some chroniclers, this tradition of eating chestnuts, deeply rooted throughout Catalonia, began during the night that runs from All Saints' Day (November 1) to Day of the Dead (November 2). During this evening, the church bells did not stop ringing the bells to warn the neighbours of the arrival of the moment to pray for their deceased. The great fatigue caused by moving the rudimentary structures of the bell towers for so many hours made it necessary to regain strength. That is why the bell ringers brought chestnuts, the most abundant fruit at this time of year, and a bottle of sweet wine, to make them have a better time and, at the same time, fight the cold in the few moments of rest.
And the panellets?
This custom is linked to the blessing of bread ("pa" in Catalan language), which was deposited as an offering to family graves in honour of the memory of ancestors and also as food on the journey to the afterlife. These breads would have been replaced over time by the sweet panellets, made with ingredients that do not pass over time and that, therefore, can last for several days while the deceased make their way to eternity.
Are you joining the celebration?
Also … If you come more than one night, from the second and for all the following nights, we will apply a 10% discount on the hotel price. And if you want to visit our winery – we will do it too!