Combined packs of experiences
Pack room + dinner + winery visit + bottle of cava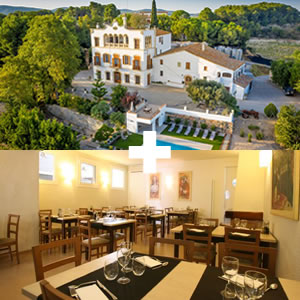 Option 1
Restaurant "El Racó de la Cigonya" in Santa Margarita i Els Monjos, 7 km from the hotel. It is a restaurant with Mediterranean cuisine that prepares its menus with local and seasonal products. That is why the menu may vary depending on the date and season.
For our customers:
First course
It can be chosen between 4 first courses
Second course
To choose: plate of meat or fish
Desserts and coffee.
Bolet wine will be served for the dinner.
Available every week night, except Monday.
Prices
Room + dinner + visit + a bottle of cava
Rossinyol Room 280€
Cantarelus Room 270€
Camagroc Room 255€
Fredolic Room 245€
Apagallums Room 245€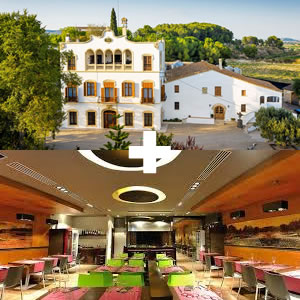 Opció 2
Restaurant "De Bon Guss" in Llorenç de Penedès, 7.8 km from the hotel. It is a nice decorated restaurant in an industrial and minimalist style. They have an open kitchen. They offer good meat that they cook in the center of the restaurant on a great barbecue.
For our customers (to choose 1 per person and food)
To share…
Tuna tartar with lemon, soy and crispy wassabi.
Goat cheese salad, nuts and honey vinaigrette.
Iberian ham wood cut with glass bread and tomato hanging.
Steamed mussels.
Grilled mushrooms with romesco sauce.
Second courses to choose…
Grilled country calf entrecot.
Secret Iberian pork grilled.
Cod to the can with beans.
Golden on the grill.
Dessert…
Chocolate coulant with vanilla ice cream.
Sip of lemon in the sea of cava.
Creme catalana.
Knead cheese with red fruits.
The menu includes the wines from our winery.
Available on Saturday and Sunday nights.
Prices
Room + dinner + visit + a bottle of cava
Rossinyol Room 300€
Cantarelus Room 290€
Camagroc Room 270€
Fredolic Room 260€
Apagallums Room 260€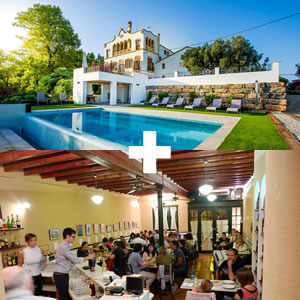 Option 3
Restaurant "Cal Lluis" in Sant Martí Sarroca, 15 km from the Hotel. It is a rustic and classic style restaurant, opened since 1887. A kitchen with cold preparations that offers a wide assortment of select dishes based on Iberian sausages and ham, cheeses, fondues, pâtés, pickles … accompanied by an exquisite bread with tomato. To finish: homemade desserts or ice creams and sorbets.
For our customers:
First course
Foie with candied figs
Goose rillettes
or
Broad beans with vinaigrette and fresh mint
Selection of smoked delicacies
Second course
Classic cheese fondue (Gruyère and Emmental)
Desserts
Sorbet or ice cream
Bolet wines: Vinya Sota Bosc and Rosé Cava
Coffee or infusions.
Available every weeknight except Tuesday
Prices
Room + dinner + visit + a bottle of cava
Rossinyol Room 290€
Cantarelus Room 280€
Camagroc Room 260€
Fredolic Room 250€
Apagallums Room 250€